TATIANA ROMANOV: HER LITTLE FRENCH BULLDOG, ORTIPO
Dmitri Malama, a wounded officer at Grand Duchess Tatiana's infirmary (and a great favorite of Sister Tatiana Romanov), gave her a little French bulldog puppy that she named "Ortipo."
"Ortipo" was reportedly also the name of Malama's favorite horse, so using this name was a tribute to Dmitri.
This funny little dog, which the entire Romanov family very much enjoyed, is mentioned frequently in their diaries and letters.
Ultimately, Ortipo would follow Grand Duchess Tatiana and the Romanov family as far as Tobolsk, where she is last recorded in Grand Duchess Tatiana's arms as the latter tried to balance both the dog and her suitcase when the family was forced to walk in the mud from the train station to the Governor's house.
A later account mentions the bayonetting of "Anastasia's lapdog" in Ekaterinburg, but this may in fact, have been Ortipo – the only dog in Ekaterinburg small enough to be described as a lapdog (the others being Joy and Jemmy, Tsarevich Alexei's and Grand Duchess Anastasia's spaniels).
From diaries and letters of Tatiana Romanov:
"1 October, 1914. … Anya brought me a little French bulldog from Malama, incredibly sweet."
"30 September, 1914 – Tsarskoe Selo. Mama darling mine, forgive me about the little dog. To say the truth, when he asked should I like to have it if he gave it me, I at once said yes. You remember, I always wanted to have one, and only afterwards when we came home I thought that suddenly you might not like me having one. But I really was so pleased at the idea that I forgot about everything. Please, darling angel, forgive me. Tell Papa about it. I hope he won't have anything against it…"
"The doggie is terribly sweet."
"Sat at home with Marie and the doggie."
"Sat with Malama until 5.45. The rest [of them] sat with the others. Ellis was also there. Brought Ortipo with me."
"Ortipo is growing and is awfully cute, runs around a lot and is terribly happy."
"In the afternoon 4 walked with Anya, Ortipo was with us too."
"Had dinner with Mama and aunt. Ortipo is with me."
"Olga is playing colorito with Mama, and Ortipo is running around the room like a mad dog."
"Your telegram about the scandal that happened with Ortipo had me very amused – I imagine what it would be like… the little monster!"
"Yesterday they brought Ortipo with the puppies to show them. They are very small and ugly and who knows what and whom they look like. But Ortipo was lying quietly beside them in a basket and evidently was very scared that we would tease or torment the little ones. But they were taken away again and later they will only bring Ortipo."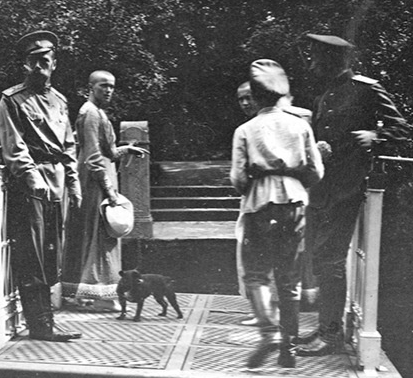 "Ortipo is such a darling and sends her regards to you and Nagorny."
"Some roads are covered with snow already and it is very cold. I will bring Ortipo with me. I imagine how she will be happy to see you."
"Pyotr Vasilievich came over now before the lesson and is playing with Ortipo."
"How is Alexei? Tell him that Joy is bored without him. Ortipo is terribly sweet."
"Ortipo is now lying on the floor and chewing on her football."
"At the [train] stations [we] went out, walked, Ortipo was with me."
"Ortipo is doing well, but [she] is becoming terribly lazy. [She] is lying down by the fireplace all day or on the sofas. Does not want to walk [outside]."
"Alex. Petr. sold the pigs for 900 rubles, and we kept one – the female which I think found a way to fight with Ortipo."
From letters of Empress Alexandra to Nicholas II:
"28 November 1915… Ortipo is lying on my bed & sleeping fast…"
"17 March, 1916… My little Malama came for an hour yesterday evening, after dinner at Anya's. We had not seen him for 1 1/2 years. Looks flourishing, more of a man now, an adorable boy still. I must say, a perfect son-in-law he would have been — why are foreign Pces. [princes] not as nice! Ortipo had to be shown to his 'Father' of course."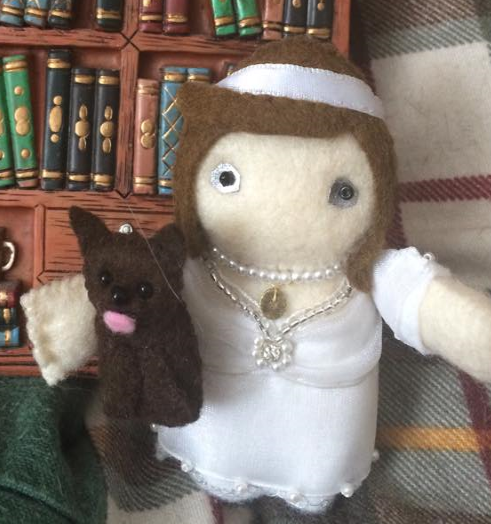 From the book Tatiana Romanov, Daughter of the Last Tsar: Diaries and Letters, 1913–1918