Publications by Helen Azar
MARIA ROMANOV: THIRD DAUGHTER OF THE LAST TSAR. Diaries and Letters 1908-1918.
Available in May of 2019, this latest book is based on diary entries and personal papers of Grand Duchess Maria Nikolaevna, translated into English for the first time.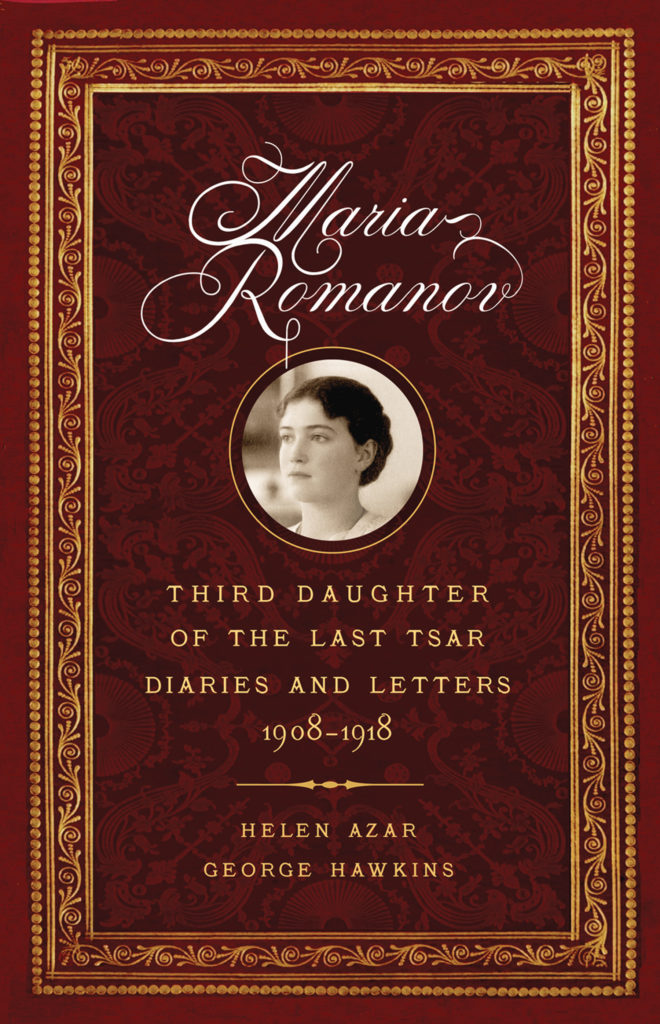 In the twilight of the nineteenth century, a third daughter was born to Tsar Nicholas II and his wife Alexandra. Grand Duchess Maria Nikolaevna—known to her family and friends simply as "Mashka"—grew into an empathetic, down-to-earth girl, unaffected by her imperial status. Often overshadowed by her two older sisters, Olga and Tatiana,  and later, her brother Alexei and younger sister Anastasia,  Maria ultimately proved to have a uniquely strong and solid personality.  In Maria Romanov: Third Daughter of the Last Tsar, Diaries and Letters, 1908–1918, by translator and researcher Helen Azar with George Hawkins, Mashka's voice is heard again through her intimate writings, presented for the first time in English. The Grand Duchess was much more than a pretty princess wearing white dresses in hundreds of faded sepia photographs; Maria's surviving diaries and letters offer a fascinating insight into the private life of a loving family—from festivals and faith, to Rasputin and the coming Revolution; it is clear why this middle child ultimately became a pillar of strength and hope for them all. Maria's gentle character belied her incredible courage, which emerged in the darkest hours of her brief life. "The incarnation of modesty elevated by suffering," as Maria was described during the last weeks of her life, she was able to maintain her kindness and optimism, even in the midst of violence and degradation. On a stuffy summer night in 1918, only a few weeks after of her nineteenth birthday, Maria was murdered along with the rest of her family in a cellar of a house chosen for this "special purpose." Two sets of charred remains, confirmed to be Maria's and her brother Alexei's, were not discovered until almost ninety years later, separately from those of the other victims of the massacre. As the author relates, it is still unknown if these remains will ever be allowed to be laid to rest.
IN THE STEPS OF THE ROMANOVS: The Final Two Years of the Russian Imperial Family 1916-1918

This volume offers an accurate glimpse into the final two years of the last Imperial Family of Russia: exclusively through their own diary entries and personal correspondence, supplemented by contemporary eyewitness accounts, many of which are published here in English for the first time.
The reader will get to know on a deeper level the Grand Duchesses and the Empress, as they work at Tsarskoe Selo infirmaries; witness the imperial family's grief for their murdered "Friend" Grigori Rasputin; experience their arrest after the outbreak of revolution, and follow them into captivity in Siberia – and ultimately the Red Ural – where they meet their tragic end in the cellar of "The House of Special Purpose".
This already familiar unique piece of history is individually told by Nicholas, Alexandra and their five children: Olga, Tatiana, Maria, Anastasia and Alexei. Their collective personal story is a portrayal of a united family bound together by love, hardship and tragedy, taking place during the twilight of an extraordinary bygone era.
THE DIARY OF OLGA ROMANOV:  ROYAL WITNESS TO THE RUSSIAN REVOLUTION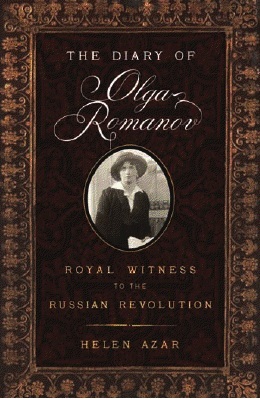 The First English Translation of the Wartime Diaries of the Eldest Daughter of Nicholas II, the Last Tsar of Russia, with Additional Documents of the Period
In August 1914, Russia entered World War I, and with it, the imperial family of Tsar Nicholas II was thrust into a conflict they would not survive.
His eldest child, Olga Nikolaevna, great-granddaughter of Queen Victoria, had begun a diary in 1905 when she was ten years old and kept writing her thoughts and impressions of day-to-day life as a grand duchess until abruptly ending her entries when her father abdicated his throne in March 1917. Held at the State Archives of the Russian Federation in Moscow, Olga's diaries during the wartime period have never been compiled into English until this volume.
RUSSIA'S LAST ROMANOVS: IN THEIR OWN WORDS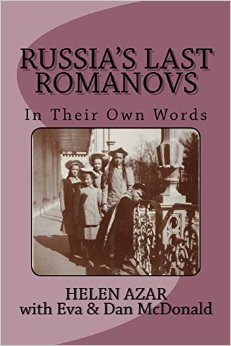 The Last Ruling Romanovs.. Much has been written about the life of the last Imperial family of Russia: Tsar Nicholas II, his wife Tsarina Alexandra, and their five children – Olga, Tatiana, Maria, Anastasia and Aleksei. The entire family, including their personal physician, retainers, and even their pets, became tragic victims of the Bolshevik revolution. They were arrested, exiled, and ultimately secretly murdered in a small cellar of a house in the Urals, in the summer of 1918.
In this book, you will follow the events which led up to their eventual tragic fate through personal words of each family member, as well as their close friends and associates. Their letters, diaries, and postcards – many of which have been compiled into English here for the first time – tell a unique story, and have yet a lot to reveal.
MARIA and ANASTASIA: The Youngest Romanov Grand Duchesses In Their Own Words 
They were the two youngest daughters of the world's most powerful man – Nicholas II, Tsar of Russia. Known to their family and friends as "The Little Pair", Grand Duchesses Maria and Anastasia were born into opulence, but led modest lifestyles. They were two normal young women growing up in extraordinary circumstances, ultimately getting caught in the middle of frightening political events that would take their teenage lives. Until this volume, the two girls did not have a chance to tell the story of the last four years of their lives during the first world war and the revolution, – in their very own words.
Journal of a Russian Grand Duchess: Complete Annotated 1913 Diary of Olga Romanov, Eldest Daughter of the Last Tsar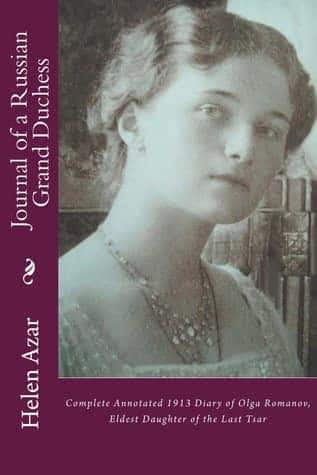 She was the eldest daughter of Tsar Nicholas II of Russia – the Grand Duchess Olga Nikolaevna Romanov. In 1913, the tricentennial year of her family's dynastic rule, Olga was coming of age – turning 18 in early November, and her life was full of romance, pageantry and fun. This volume comprises of diary entries from the full year, which allow the reader a unique glimpse into the daily domestic routines of the Russian imperial family just prior to the outbreak of the First World War.
Tatiana Romanov, Daughter of the Last Tsar: Diaries and Letters, 1913–1918

Translated for the First Time in English with Annotations by a Leading Expert, the Romanov Family's Final Years Through the Writings of the Second Oldest Daughter.
Grand Duchess Tatiana Nikolaevna of Russia was the second of the four daughters of Tsar Nicholas II and his wife, the Empress Alexandra Feodorovna. Long recognized by historians as the undisputed "beauty" of the family, Tatiana was acknowledged for her poise, her elegance, and her innate dignity within her own family. Helen Azar, translator of the diaries of Olga Romanov, and Nicholas B. A. Nicholson, Russian Imperial historian, have joined together to present a truly comprehensive picture of this extraordinarily gifted, complex, and intelligent woman in her own words.
Romanov Family Yearbook: On this date in their own words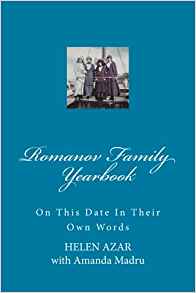 The year 2018 marks a century since the murders of the last imperial family of Russia: Tsar Nicholas II, his wife Alexandra, four daughters: Olga, Tatiana, Maria and Anastasia, and son Alexei. This family of seven was brutally killed in July of 1918, but continues to fascinate even a hundred years later. Helen Azar, author of several books based on her original translations of their diaries and letters, brings you "THE ROMANOV FAMILY YEARBOOK" – a unique edition which commemorates them through a collection of personal documents that recount their daily lives, ranging over a decade. This book contains 365 diary entries, letters, and photographs–one for each day of the year—including some previously unpublished material. It is essential reading for Russian imperial history enthusiasts and excellent introduction for those new to the letters and diaries of Russia's last Romanovs.
1913 Diary of Grand Duchess Maria Nikolaevna: Complete Tercentennial Journal of the Third Daughter of the Last Tsar
Grand Duchess Maria Nikolaevna was the third daughter and middle child of Tsar Nicholas II of Russia, and 1913 was the tercentennial year of her family's dynastic rule—the last full year before the outbreak of World War I. In her journal, Maria documents the ceremony and celebrations of this important date in Imperial Russian history, while at the same time showing herself to have been a remarkably ordinary young girl who happened to be the daughter of the most powerful man in the world. Maria's journal records the daily routines of the Imperial family, from the mundane to the magnificent, allowing the reader a peek into the lost and distant world of the last Romanovs.