GEORGE HAWKINS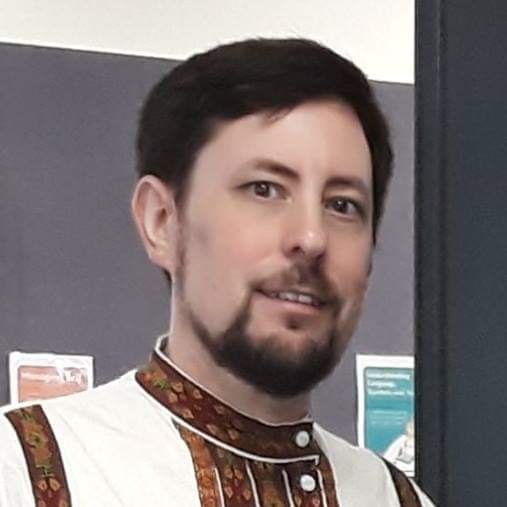 Romanov documents translator George Hawkins is from New Zealand and first became interested in the Romanovs at primary school, when he came across a reader about Anastasia. His interest continued to grow and through the '80s he borrowed as many books about the Romanovs as possible from the library.
At high school George discovered he had an aptitude for languages and while studying Japanese, also began teaching him-self to read the Cyrillic alphabet and some Russian words. Following a year in Japan, George began studying languages at the University of Auckland, including Russian and Russian poetry. He speaks Japanese, Russian and Swedish, with some knowledge of other languages too.
After graduating and training as a teacher, George was accepted onto the JET Program and spent five years teaching and living in Ichikawa, Japan, not far from Tokyo. His interest in Russia led him to visit the Japanese Orthodox Church's Holy Resurrection Cathedral (also known as Nikolai-do) in Tokyo, where he was later baptised into the Orthodox Christian faith.
During this time, more and more Romanov related material was being released and George eagerly read as much as he could get hold of. He also joined the Alexander Palace Forum and through that struck up a friendship with fellow Romanov enthusiast Helen Azar.
Returning to New Zealand, George began attending the Russian Orthodox Church in Auckland, where he was able to further develop his knowledge and understanding of Russian language and culture. Here he also met his wife Olga. George, Olga and their three children live in Auckland. Russian language and culture form an important part of their lives.  George works as a primary school teacher and is also trained in reading recovery. Aside from the Romanovs and Russian history, he enjoys music, particularly singing (he is a member of the church choir), playing guitar, reading, art and travel.
Over the past couple of years, George has begun translating letters and diary entries of the Romanov family, and among other Romanov related projects, is co-authoring a forthcoming book of letters and diary entries of Nicholas II and Empress Alexandra's third daughter, Grand Duchess Maria Nikolaevna.