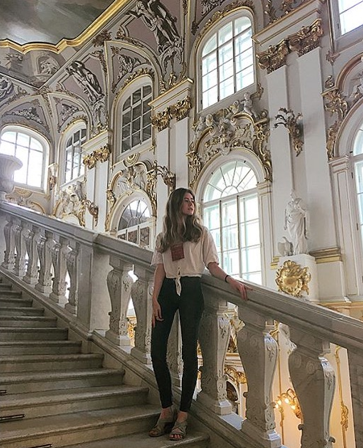 MOLLY THATCHER grew up in a small village in Berkshire, England. She first became interested in Romanov history through her maternal Grandmother, who had worked as an Au Pair to an exiled Russian noble family in Switzerland. Her grandma remained close with the family and later brought Molly's mother back to visit the Russian Émigré community.
This personal family connection motivated Molly to explore Romanov history and read any available books on the Romanov family or the Russian nobility. Since then, her interests have expanded to include other areas of Russian history and Russian literature. Her special interest is the influence of Russian Literature on British Modernism and she plans to write her dissertation on this subject. She is also currently in the process of learning Russian.
In July 2018 she travelled to the Hermitage Museum in St Petersburg to complete an internship program. While there,  she met Helen Azar and became her intern; working as a digital editor for her website redesign and contributing writing to her blog and upcoming book- "Maria Romanov: Third Daughter of the Last Tsar, Her Diaries and Letters".
While in St Petersburg, she was able to further pursue her love of Russian history and the Romanovs- travelling to Tsarskoe Selo and exploring St Petersburg. Some particular highlights were being able to wander the grounds of the Alexander Palace and visit the Romanov tombs at the Peter and Paul Fortress.
Molly is currently in her second year at the University of Exeter and is studying an English Literature BA. She also currently volunteers at Pushkin House in London- a centre for Russian Culture.
You can contact Molly through her book-related Instagram account @bookish_existence or by email at mollythatcher@outlook.com.