ON THIS DATE IN THEIR OWN WORDS: ANASTASIA ROMANOV- 31 MARCH, 1916.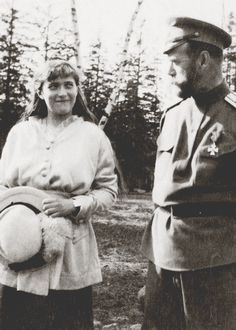 1916 letter from Anastasia Romanov to Nicholas II
31 March, 1916. T.S. My precious Papa Darling. I am hurrying to write to you as we must go to the infirmary. Maria and I and Alexei had breakfast upstairs as Mama and the sisters are in Petrograd. We go outside and break ice. Yesterday Fedotov was not there. Krylov is terribly weak and showed up. Maria and I are now playing, she on the piano, and I on the balalaika, and it's turning out rather well, but it's even better with Olga. I am imagining how the 1st Hundred was happy to see you there in particular and I was a little envious of you. We will go break ice again today, and to two infirmaries, to ours and to the Grand Palace. I give you a terribly big kiss and squeeze you. Your loving loyal and faithful Kaspiyitz. +
From the book MARIA and ANASTASIA: The Youngest Romanov Grand Duchesses In Their Own Words: Letters, Diaries, Postcards.