ROMANOV FAMILY: ON THIS DATE IN THEIR OWN WORDS. OLGA ROMANOV – 1 FEBRUARY, 1917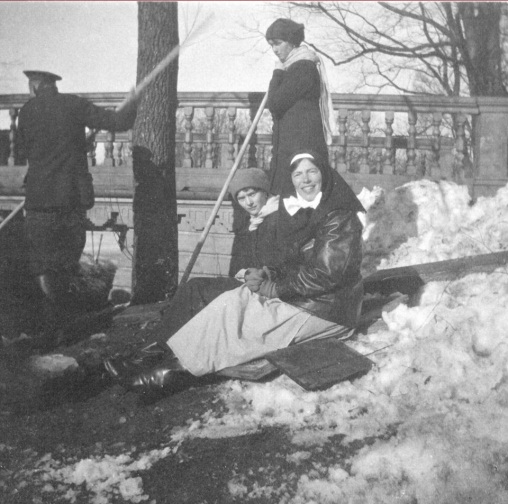 From the 1917 diary of Olga Romanov:
Count Zamoisky. Wednesday. 1-st Febr. In the morning, we 2 to the infirmary. Pop[ov] had surgery of the finger and clavicle. Strong pain, also Popov with [illegible] and Poturev. [I] changed their ice, distributed medicine, fixed the beds, set up Nikolaev, etc., wrote. Dzhenkovich is fine, coughing. Koraikozov stopped by. Ate altogether. 2 [degrees] of frost. Alternately sunny with snow and storm. Went to the Grand Palace, after that to the ruins. In sleds and skis raced around across the garden. Met up with Papa and M. who were walking, and we switched with her. [I] walked with Papa, he was going to a reception, and the four of us walked on. After tea, cinematograph at Al.[eksei]'s. At about 7 o'clock, rode with Papa to the vsenoshnaya. Mama later. AleksKonst from the escort was there. In the evening, pasted in my album with M. Papa read Chekhov's "Tragic", "The Martyred Ones" and "The Eve Before Lent". At 11 o'clock to bed. Right now it is 8 degrees of frost and a heavy snow storm.
From the book Russia's Last Romanovs: In Their Own Words