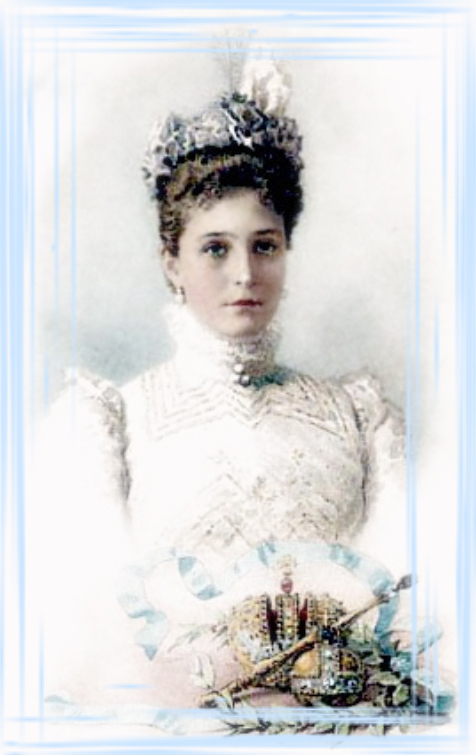 ODE TO EMPRESS ALEXANDRA FEODOROVNA
Written by Alexander Myslovsky
Everything passes like a dream in this life
And in the darkness it disappears without a trace.
Only love, like the sun in its zenith,
Will burn forever in this world …
And like a lily in the Garden of Eden,
You bloomed under its living rays.
And like a fairytale princess,
You dreamed about a beautiful prince.
And in the path of unknown fate
He appeared in front of you, like a wonder:
The Russian Prince with otherworldly eyes,
He captured your heart.
You could not fall in love with another,
This wonder will not happen again.
And the Princess of a German House
Became the Tsaritsa of All the Russias.
Wearing garments of angelic bird of paradise,
Had not forgotten about her chicks.
Alexandra – the Holy Empress
You adopted all Russia.
Before the Heavenly King in the sky
You remained so dear and close.
Protect us with Your prayer
And warm us with Your maternal love.
Dreaming of cloudless happiness,
You opened your heart to your new Motherland.
Only instead of celestial paradise
You fell down to the mournful earth.
Life was not a fairytale. And so elusive
Is happiness in this bustling world.
You could not avoid tribulations, even dressed in royal purple.
You had to forget about peace forever,
Let others dream of happiness.
With Your majestic Spouse you shared
All the labors and sorrows of the world.
And under the burden of the intolerable
You only found consolation in one thing:
Kneeling in front of the Son of God
And praying for eternal salvation.
And with God's blessings,
Under the patronage of Queen of Heaven,
You gave five children as a consolation
To the Tsar and to Russia.
And on a rock of saving grace
You build heavenly home fire.
A bright example of piety
Your Holy Family became.
But winds of insanity started to blow,
And the bloody rivers raged,
And the breath of dark death
Shattered Your happiness forever.
And clutching each other in close embraces,
You approached the threshold of the world,
And when the hour of crucifixion arrived,
You all stepped up to the Calvary …
(translated by Helen Azar)