ON THIS DATE IN THEIR OWN WORDS: MARIA ROMANOV- 8 APRIL, 1915.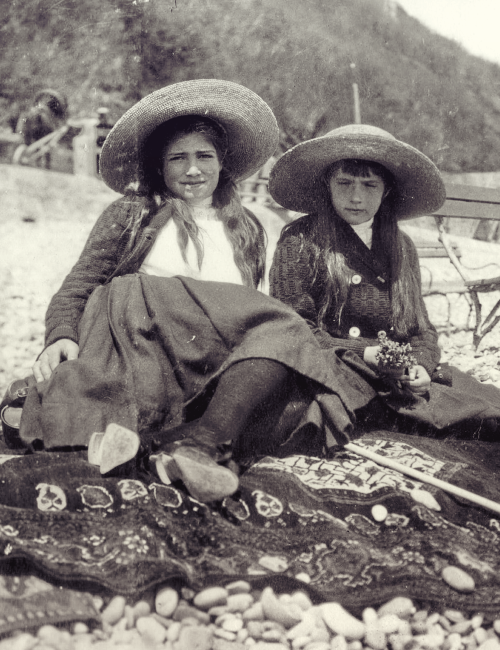 1915 Letter from Maria Romanov to her "Papa":
8 April. My sweet good Papa darling! Mama was terribly happy to receive the cross from you, and she is constantly wearing it today. She was lying down on the balcony for the first time today. Anastasia and I rode our bicycles for a bit around the house. The guard on duty today is not very interesting. In the morning it was 20 degrees in the sun. In the afternoon, I walked with Anastasia and Shura, and then went to our infirmary. Nikolaev has a toe abscess on his right foot, and they had to remove the nail, so now he has to stay in bed for a few days. […] I am so happy for you, that you will see Aunt Olga. Do you remember when Tatiana Andreyevena was here and asked for you to come over, back then you didn't think that you would be there so soon. Right now I am sitting near Mama's bed, where she is staying, while Olga and Tatiana are reading. Alexei wanted to sleep in your spot today and told Mama that he wants to pretend that he is the husband. Yesterday he gorged on black crackers and in the evening he was sent directly to Derevenko. Olga and Tatiana were in Petrograd today, Olga at the charities, and Tatiana at the committee and [she] took pleasure in dear Neidegart. After dinner I played kolorito with Mama. Now she is reading some English book. Yesterday Kozhevnikov and Rodionov and Kublitsky were at Anya's for tea. Before that they stopped by to bid farewell to Mama, as they were leaving that evening. They were wearing the same shirts as yours. It is so lonesome here without you. I kiss you affectionately, and squeeze you in hugs and love you. Your Kazanetz. Big regards to Kolya. May the Lord keep you. + […]
From the book MARIA and ANASTASIA: The Youngest Romanov Grand Duchesses In Their Own Words: Letters, Diaries, Postcards.