August 24, 2015.
Exactly 111 years ago, on 24 August, 1904, the Romanov Dynasty Heir Alexei Romanov, who was born earlier that summer, was christened in the Russian Orthodox tradition. Below are some of the photographs from this event.
Tsarevich Alexei had a number of godparents, including Kaiser Wilhelm. His principal godmother was his grandmother Dowager Empress Maria Feodorovna and principal godfather was Grand Duke Alexei Alexandrovich.
The baby Alexei also had a number of other godfathers, including his great-grandfather King Christian IX of Denmark and his great uncle King Edward VII of Great-Britain. None of the foreign relatives were actually present instead had the following stand in for them: Prince Christian of Denmark (Dowager Empress Maria Feodorovna's nephew), Prince Louis of Battenberg and Prince Henry of Prussia. At the time Russia was at war with Japan, hence Tsar Nicholas II also named all the soldiers and officers of the Russian Army and Navy as honorary godfathers.
From the diary of Tsar Nicholas II:
"11 (24 N.S) August, 1904. A remarkable day of the christening of our dear son. The morning was clear and warm. Until 9 1/2 golden carriages and Platoon Convoy, Hussars and Hetmans stood in front of the house on the road to the sea. At five [minutes] to 10 the procession started. Half an hour later [we] went to the cottage. Saw Mama at Christian's who just arrived on behalf of Apapa. Went to the Grand Palace with Misha. The christening began at 11 o'cl. Later learned that little Alexei was very calm. Olga, Tatiana, Irina and the other children came out for the first time and excellently withstood the entire length of service. The main recipients were Mama and Uncle Alexei. After obednya [I] received the diplomats, and then had a big breakfast. Returned home only at 3 1/4 and congratulated darling Alix with the christening. The weather turned bad, and it started pouring. Alix saw many people lying down on the sofa. I spent the rest of the day at home. In the evening Militza and Stana sat with us."

This occasion was the first time the young Grand Duchesses Olga and Tatiana and their cousin Princess Irina Alexandrovna, were present at an official ceremony.
All the little grand duchesses also had the opportunity to pose for photographs in small Court dresses and kokoshniks (traditional Russian head dresses).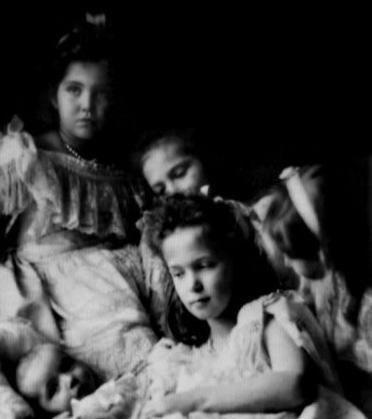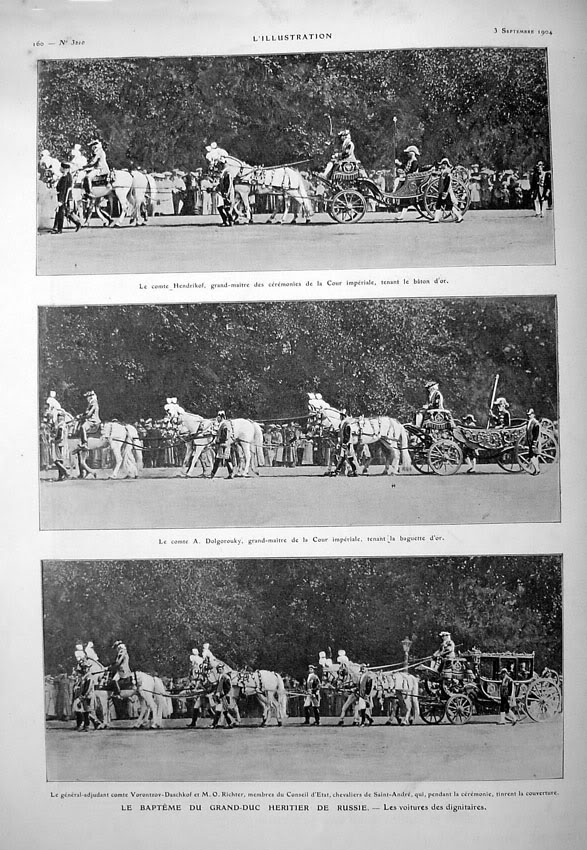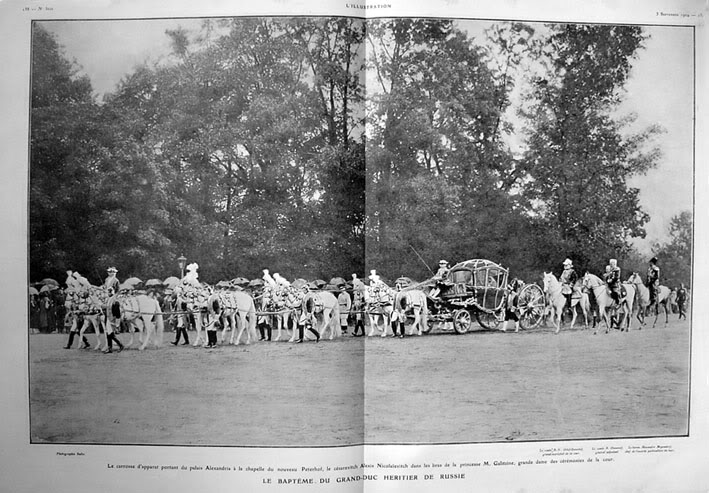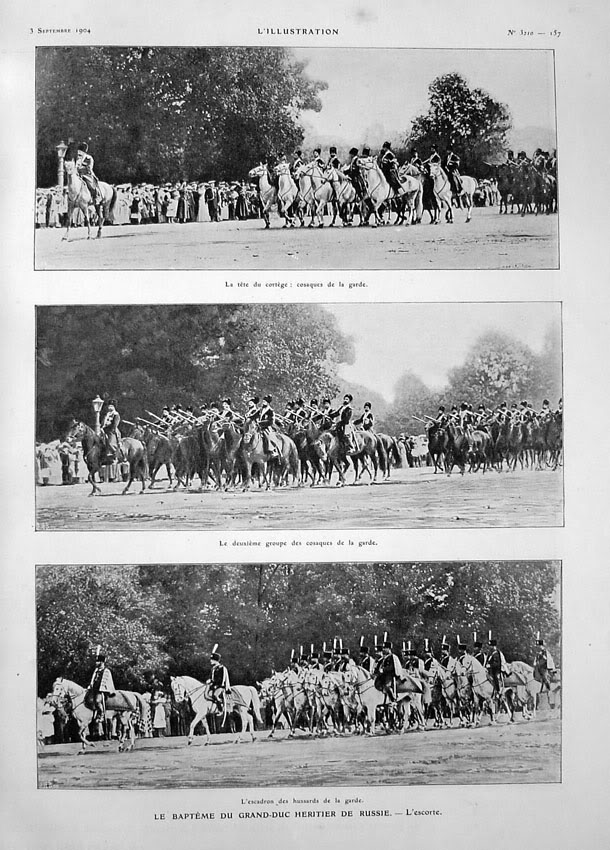 Scroll down for some photographs of the christening cortege and artist's depiction of the baptism.