ROMANOV FAMILY FRIEND: MARGARITA KHITROVO
One of the last letters Empress Alexandra wrote from captivity was to the Romanov family friend Margarita "Rita" Khitrovo.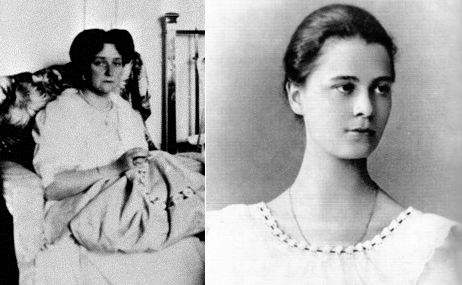 21st Jan. 1918 T[obolsk]. My darling big, although also little, Rita! Thank You from the bottom of my soul for your dear letter. We are so touched that You all remember us and sent [us] the perfume, etc. The first package got here just fine. Please thank M-me Kadbish for the icons and the prayer rope, which were sent [to us] now and [back] in the autumn. It makes one so happy when one feels that one is not forgotten by others. Darling, really, do not lose courage – the worse things get, the closer God is, with His earnest assistance. Believe in Him fervently and unshakably. He will save our dear much-suffering motherland. He is patient and forgiving, [He] will not stay eternally angry, but [we] must pray more, be resigned, obedient – and wait patiently. God has storms and [also] sunny weather; the clouds will pass – and the beautiful "Sunny" will come out. – So much sun we see here, and it warms us so. – Take a look at nature, understand it with your very soul, and She [nature] will tell [you] so much, and [it will] comfort [you]. Such horrors, what's happening all over, my soul is mourning for all these innocent victims, but He knows best, why this is necessary. His ways are unknown to us – we only know that all paths lead to Him. – Life is a difficult school, thorny, but for that we will get peace and calm and pleasure there – one's soul longs for that place. And the Lord will hear the prayers of those who already reached that other place. For others [we] mourn – then fervently pray and give them over into His hands, and He will keep them safe. He gives strength and comfort and peace of mind. You know, all this will be over, and when we feel that all this is ending, then He will show us his endless love and mercy. No epaulets – horrible. [I] understand that everyone wears civilian [clothes]. Al. Vlad. is studying the Engl. lang. assiduously, he moved in with an Engl. family, in 10 days he learned 300 words, [he] is cramming day and night. After surgery he felt very badly, but the Lord saved [him]. [I] keep waiting for N.Ya. at least to see [him] from afar. [I] would like to tell You a lot more but cannot. – Sending that by a different route, we think it will get [to you] soon. – So Olga P. and Baron! I am so happy for him. – Everyone has gotten over the rubella. Heart rarely bothers [me], since I live very quietly. – Lord keep you. + [I] kiss you affectionately. Regards from the Little One and Father. Chief. Thanks for the prayers and for the photo of N. D. – Hard to write, hands are so cold.
[On the back page]: To Rita.
From the book
Russia's Last Romanovs: In Their Own Words