ROMANOV FAMILY AND THE CAMERA
All members of the Romanov family were avid photographers. Luckily for us, because they left behind hundred upon hundreds of photographs! They often mentioned photographs in their diaries and letters, as well as one of their favorite past times: "pasting" their photographs into albums.
Grand Duchess Maria Nikolaevna:
" After breakfast we took [photographs] with the wounded officers at the Grand Palace."
"Pasted [photos] in the album with Papa."
"Anya was here, pasted in the album with her and Shvybz"
"Sat and looked at a [photo] album, then went to tea."
"Sat with Nastenka and looked at albums."
Grand Duchess Anastasia Nikolaevna:
"This afternoon all of us and Mama will go to the Grand Palace as we will take photographs.. "
"I took this picture in the mirror, and it was hard because my hands shook."
"I was just organizing the pictures and have not pasted the Sevastopol ones, as recently Kira gave me the pictures he took there. And now I have to paste them all."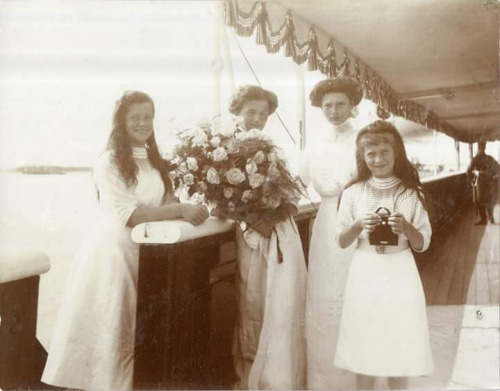 Tsar Nicholas II:
" I am also grateful for the photographs of which I now have so many. The old album is full, will need to order a new one soon – but [there is] never enough time to paste them."
From the book MARIA and ANASTASIA: The Youngest Romanov Grand Duchesses In Their Own Words: Letters, Diaries, Postcards.