PRINCE IOANN KONSTANTINOVICH AND GRAND DUCHESSES OLGA NIKOLAEVNA?
There have been several potential candidates mentioned for the hand of Grand Duchess Olga Nikolaevna, but according to a 1910 letter from Grand Duke Konstantin Konstantinovich (KR) to his son Prince Ioann, the latter was at one point interested in the Tsar's eldest daughter romantically.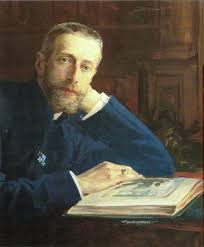 Read on:
3 December, 1910. Pavlovsk. From bruderschaft [brotherhood, German] you very unexpectedly suddenly turn to Lubochka. You cannot marry her at this point, but without breaking the law, with which you need to familiarize yourself, taking advantage of conversations between AA. Makarov and Kostya. During one of these conversations, ask for the federal secretary to explain to you the legalization of marriages of the members of the Imperial family. The Tatiana question has not been resolved by far as it needs a change of the existing law. But let's assume that it will be changed: then I advise you to be careful. Last year you wrote to me about your love for Olga Nikolaevna and for Tanya, and someone else, and now it's Lubochka, while you are still bringing up Olga Nikolaevna as well. Seems like you do not know yourself with whom specifically you are in love: but without a tested and faithful love one should not marry.