OLGA ROMANOV: HER LAST LOVE, DMITRI ("MITYA") SHAKH-BAGOV
From the 1915-1916 diaries of Olga Romanov:
"… Spoke with Mitya, he is sad for some reason, poor little thing…. "
"… Looked at a [photo] album with Mitya and others. Stopped by [to see] everyone and [sat] on the balcony with Mitya for a minute… Spoke with Mitya…."
"… For a long time sat on a window sill with darling Mitya, later in a chair, he on a table, [while] I knitted. He has [temp of] 37.1, fine in the evening, [wearing] a thick robe… In the evening talked with Mitya… " "
"In the evening talked with Mitya. Unexpectedly he received instructions to go to the Caucuses for about two days. So sad… "
"…Today is the first anniversary of Mitya's being wounded…"
"[I] long to see Mitya."
"Was talking in the front room with Kulnev when suddenly Mitya walked in. So awfully happy to see him with a part in his hair."
"Today Mitya is 24 years old. Lord save him."
From the memoir of V.I. Chebotareva (Sister of Mercy):
"…. [A] letter came from Shakh-Bagov – Olga Nikolaevna threw all her things around from delight, and threw a pillow up on a top shelf. She felt feverish and she jumped around: 'Can one have a stroke at 20 years old? I think I am having a stroke!'. But Varvara Afanasievna declared: 'Young blood is warm; the years pass, and the blood cools off'". (2/15/1916)
Who was Sister Olga Romanov's beloved "Mitya" Shakh-Bagov?
Dmitri Artemevich Shakh-Bagov (aka Shakhbagov) was born on February 9, 1893. He attended a gymnasium and spent his summers in Manglisi, where His Majestry's 13th Life Yerivan Grenadier Regiment was stationed – the oldest and one of the most prestigious regiments in the Russian army.
Interaction with the officers of the regiment played a major role in Mitya's upbringing. At the beginning of the First World War, Shakh-Bagov entered his familiar regiment as a volunteer and marched out with along with the adjutant lieutenant K.S. Popov. Popov who later would end up at the same infirmary with Dmitri, remembered him this way: "He showed himself as a worthy and brave officer, and a rare and amazingly good-natured fellow. If to all of this you add his handsome appearance and ability to wear a uniform with dignity, you get the type of a young officer that our Yerivan regiment is rightly proud of. "
Shakh-Bagov was wounded in action on 19 May of 1915, and five days later arrived at the Tsarskoe Selo infirmary. Here worked the imperial "Sisters of Mercy": Olga Romanov and her sister Tatiana. For the young grand duchesses this was arguably one of the most exciting periods of their lives, one that they would always remember fondly. Their daily work was all in the name of Russia's victory; and in between they were playing croquet, ruble, checkers, ping-pong, enjoyed conversations, concerts and movies, and made interesting new acquaintances: among them so many young handsome officers.
The new patient – a young sweet and shy ensign – quickly became one of the grand duchesses' "favorites": "He's so sweet, such a darling little dear… " – the Romanov sisters both noted in their diaries.
Soon it became obvious that Shakh-Bagov benefitted from his new acquaintances – intentionally or not. In the memoirs of other "Yerivantzy", they described a curious case: one of the young convalescents, while playing croquet with Grand Duchess Olga, complained about the problems associated with changes in his regiment. Olga told her mother, Empress Alexandra, who wrote to the Tsar, by whose orders the problem was soon resolved. The officer's name was not specifically mentioned, but Empress Alexandra's letter was dated June 22, 1915, while in the diary of Grand Duchess Olga from the previous day, she mentioned that she was playing croquet with Mitya.
Mitya's stay at the infirmary ended quickly: a month later he was discharged. "Our Yerivantzy are getting well too fast, and tomorrow the sweetest of them is returning to the regiment, which is very sad," Grand Duchess Olga wrote to her father, Nicholas II.
According to witnesses the departure of her favorite patient noticeably upset Sister Olga Romanov. "Very lonesome without little darling Shakh-Bagov", she wrote in her diary on June 23rd, 1915. And what was Dmitri feeling at the time? "I am going to the front: if I do not return with the St George [medal], then they will bring me on a stretcher …", he reportedly said to Ivan Belyaev, another wounded officer, before his departure.
Mitya did indeed receive his St George, and also returned to the infirmary rather quickly. He was more seriously wounded in July of 1915. Shakh-Bagov hurried to send a telegram asking for permission to return to the familiar infirmary and of course received it. He was back in Tsarskoe Selo in early August, to the undoubted delight of one nurse in particular: Sister Olga Romanov.
Belyaev remembered that Mitya "was brought in with a fractured leg, on a stretcher, emaciated and pale". Grand Duchesses Olga and Tatiana immediately had him transferred to his old bed in the "Yerivan room". Having undergone surgery, his entire leg was in plaster but Mitya almost immediately started to get up and try to walk. "It soon became evident that the good mood of his August nurse had returned and her lovely eyes sparkled once again," Belyaev noted.
Mitya's name started to appear more and more often in the diary of Sister Olga Romanov. She wrote about his wounds, his treatments, and their conversations – in person and on the telephone. Mitya seemed to never be far away from the young Grand Duchess's thoughts. "He was incredibly nice and cheerful as ever – so precious. May the Lord save him", wrote Olga Romanov on 3 September, 1915.
Together the young imperial nurse and her patient looked at photo albums sitting by a window, and often played table games like checkers. He entertained her with conversation while she was drawing or knitting; on Sundays and holidays they saw each other in church. "Awfully glad to see him … so cozy … So nice" – this was Olga Nikolaevna's usual mood in the autumn of 1915.
It is difficult to draw any definite conclusions about the depth of Grand Duchess Olga's feelings towards Mitya based on her restrained diary entries, but the infirmary staff and patients alike drew many conclusions, regardless.
"It was all very obvious, so sweet, these wonderful girlish years, an innocent girl's heart", Belyaev gushed.
A more skeptical Senior Nurse Vera Ignatievna Chebotareva observed in April of 1915: "Who knows what kind of heartache Olga has experienced. Why is she practically melting, so thin and pale: in love with Shakh-Bagov? There is a little of that, but it is not serious."
But six months later, even Chebotareva had to admit that "Olga is seriously attached to Shakh-Bagov, and it is so pure, naive and hopeless. A strange, unique girl. She would never expose her feelings for anything. It only shows through a special gentle note in her voice with which she spoke to him: 'Let me prop up your pillow. Are you not exhausted? You are not tired of this?'"
The affection was mutual – this was also noticed. On the eve of Mitya's departure from the infirmary (1st of August, 1916), Chebotareva wrote: "[Her] true knight is leaving. A nice boy, in fact. He only allows himself the adoration, as of a shrine. 'Tell me Olga Nikolaevna that Gregori is disgusting to her, tomorrow he will be gone, I will kill him'. For it is a knight's duty to save his fair lady, even against her own will. Primitive but decent man. "
"It was evident that he was completely in love with his nurse. His cheeks glowed like a bright flame whenever he looked at Olga Nikolaevna", recalled Belyaev.
There was at least one unpleasant incident: "Vera Ignatievna [Chebotareva] told me that while drunk Shakh-Bagov showed someone a letter from Olga Nikolaevna. That's all we needed! Poor baby! ", outraged Chebotareva wrote, wary of romances between the grand duchesses and the wounded officers. However, there was hardly anything personal in those letters, it was more like "how are you doing" in the style all the grand duchesses usually wrote.
The entire Romanov family was aware of Grand Duchess Olga's attachment to Mitya, who was often invited to the Alexander Palace for tea, along with some other officers. He was familiar with all the members of the imperial family: once he sent Grand Duchess Maria a birthday card, and occasionally chatted on the telephone with Tsarevich Alexei. Empress Alexandra repeatedly mentioned him in her letters to the Tsar, as if he were a regular family friend.
It is strange that Nurse Chebotareva and Doctor Princess Gedroitz feared that romances with the wounded officers would compromise the grand duchesses, while their mother, Alexandra, seemed to have encouraged these relationships. Did the Empress only see this innocent friendship in all of that and nothing more? After all, once the war came to end, marrying a simple officer would be out of the question for a Tsar's daughter.
Meanwhile, just prior to Mitya's discharge, his mother came to see him at the infirmary and was introduced to Olga. "She is so sweet, looks a lot like her 'Little One' [brother Alexei]", Mrs Shakh-Bagov noted. So, in the early 1916 Mitya leaves the infirmary. According to Belyaev, he became "Chief of the medical train which travelled from the front straight to Siberia and back, not coming to St. Petersburg."
This position was very good for a junior officer. Almost a year later, in December of 1916, Grand Duchess Olga noted in her diary that Mitya "received the second Company of the battalion recruits. [He] is happy".
Sister Olga Romanov suffered greatly after her favorite's second departure. Of course, in time she made new friends among the wounded, whom she treated with great warmth, but in her diary she kept recording all the anniversaries associated with the presence of Mitya at the infirmary, as well as chance encounters with his mother, and how she cherished things associated with him. Among her other rather dry entries, here and again real emotions would slip in: "I want to see Mitya" (09/12/16), "I have not heard a peep from Mitya at all" (11/30/16), "It's lonesome without my dear Mitya."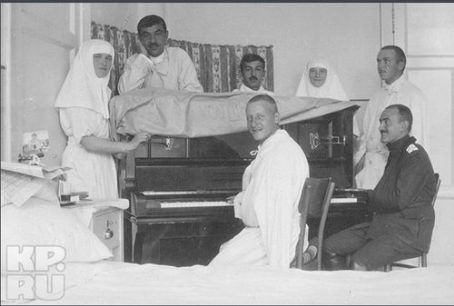 Mitya did not forgot his friends in Tsarskoe Selo either: he regularly corresponded with them, mainly through VA. Vilchkovskaya ("Bibi"). Mitya also visited Tsarskoe Selo a few times, accompanied by his mother, and later a fellow soldier Boris Ravtopulo. During these visits he came to the infirmary almost daily; as in the old days he and Boris helped the Grand Duchesses in the prep room, and spent time in a very "cozy" and fun manner. Again Mitya had the chance to spend long evenings talking alone with Olga. "The days pass like one hour while Mitya is with us", the Grand Duchess wrote.
The last time they saw each other was at Christmas 1916 – the last Christmas of Imperial Russia, while the recent murder of Grigori Rasputin had darkened the holiday for the Romanov family. These were very anxious weeks, and the last goodbye under the Christmas tree: Mitya was going away to his regiment. Apparently, the last mention of him in the diary of Olga Romanov made on his birthday (02/09/1917): "Today, Mitya turned 24 (Shakh-Bagov). May God save him."
Apparently they never saw each other again after December 27, 1916. However, Shakh-Bagov was still fated to meet with the father of Grand Duchess Olga one more time. According to the memoirs of the Captain of Yerivan Regiment, at the end of February, 1917, two companies of military staff were sent to Petrograd to suppress the unrest. Also heading there was the adjutant general and chief Lieutenant Dmitri Shakh-Bagov. "The echelon, already on its way, met up with the Emperor's train at one of the of the stations (an infamous trap). His Majesty greeted the troops and having learned that there is a detachment going to Petrograd to suppress the riots, personally ordered them to turn back, which was done."
After the revolution, the riots did not immediately affect the Yerivan Regiment: for some time it managed to maintain a relative calm. But by summer the situation became unbearable to the officers, and in June, Lieutenant Shakh-Bagov left his regiment, like many of his comrades. It is unknown where he went at that time, it is only known that he and Olga sometimes managed to get news about each other. "What are Mitya and Volodya up to?", asked Tatiana Romanov in her letter to Chebotareva, from house arrest at the Alexander Palace (01/04/1917).
There was also a mention in a letter Olga wrote from Tobolsk: "Kupov wrote [a letter]. He saw Mitya and Boris in Petrograd. They sent us regards "(04/19/1918). What was he doing in Petrograd? Where did he go after that? It is unknown.
Later in her her memoirs, Varvara Afanasievna mentions that in April of 1917, at the request of the grand duchesses they "sent [them] their uniforms, albums, camera and the icon from the dining room, which we all purchased – the last regard from the infirmary. At the time, Shakh Bagov chose it."
What was in store for Olga Romanov after that is now all too well known: Yekaterinburg, her murder, the canonization many years later. But what became of her "darling Mitya"?
We know that Shakh-Bagov's closest friend Boris Ravtopulo served a few terms in work camps in the 1920s and 30s. But any trace of Mitya was unfortunately lost. There was only one interesting reference: in the autumn of 1920, when the Red Army was almost victorious in the South Caucasus, one of the few forces able to resist it was a detachment in Echmiadzin commanded by someone named Shakhbagov. Is it possible that it was Olga's "Mitya"? Given the rarity of the last name, the place, the time, the type of activity and political position, we can perhaps assume that it was either Mitya, or one of his relatives .
One hopes that sooner or later, Mitya's final fate will be learned. There are not that many possible outcomes: he may have died fighting in the White Army, or perished in work camps, or lived in exile … These were the three usual life stories of the Russian officers from the First World War: Russia's "lost generation" – the most lost one. The young Yerivanetz, sweet and shy, primitive but decent, the brave officer and a good friend, Shakh-Bagov probably never imagined that his name would be remembered only about ninety years later, and not due to his military merits but only because there was once an innocent romance between him and a young nurse. "Pure, naive and hopeless."
Some excerpts used in this article are from the books:
The Diary of Olga Romanov: Royal Witness to the Russian Revolution
and
Tatiana Romanov, Daughter of the Last Tsar: Diaries and Letters, 1913–1918