ROMANOV FAMILY: CHRISTMAS AT THE ALEXANDER PALACE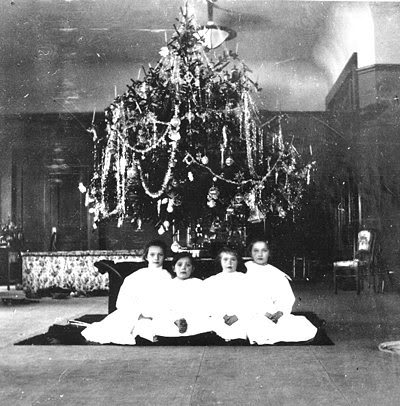 From the memoir of Margaretta Eager (Romanov family nanny):
"We generally spent Christmas at Tsarskoe Selo. It is less elaborately observed than Easter in general, but at the Alexander Palace it was a great festival. There were no fewer than eight Christmas trees in various parts of the palace. The Empress decorated them all herself, and personally chose the presents for each member of her household, and for each officer, to the number of about five hundred. A tree was arrayed for the Cossacks in the riding-school. The children and I had a tree for ourselves. It was fixed into a musical-box which played the German Christmas hymn, and turned round and round. It was indeed a glittering object. All the presents were laid out on white covered tables, and the tree stood for several days an object of intense interest and admiration to the children. They were very sad when it was dismantled just before we went to St. Petersburg, but they were consoled by being allowed to help, and to divide the ornaments among the members of their own household."
As the former nanny mentioned, the Romanov family celebrated Christmas by exchanging gifts and decorating a fir tree, just like any other family in Russia.
All the Romanov children made Christmas presents for their parents with their own hands, generally needlework.
One Christmas, little Grand Duchess Olga Nikolaevna made a kettle-holder for her father. It had a picture of a little kettle singing on a fire, which she embroidered around as a blue frame, and the little girl was very happy with her accomplishment.
When Christmas came, Grand Duchess Olga presented it to her father, Nicholas II, saying: "Nanny was afraid that it wasn't going to be much use to you because it's a kettle-holder, but you can put it on your table and use it as a place mat, or hang it on the wall for a picture. Just see the pretty little frame around it."