The four Russian grand duchesses Olga, Tatiana, Maria and Anastasia, or OTMA as they often referred to themselves, loved and respected each other, as well as other members of their family: their mother, father and little brother, Tsesarevich Alexei. "We 7" is how every member of the close knit Romanov family referred to themselves collectively.
"Mama", the Empress Alexandra Feodorovna, was very much loved by her four daughters. In their letters and diaries they always referred to her with much affection, as well as concern and sympathy for her well-being, as the Tsarina had several health conditions from which she suffered daily. There never seemed to be even a hint of annoyance at "Mama" for being constantly ill, or any resentment so typical to teenagers, for having to take over some of her imperial duties, at least not in their writings.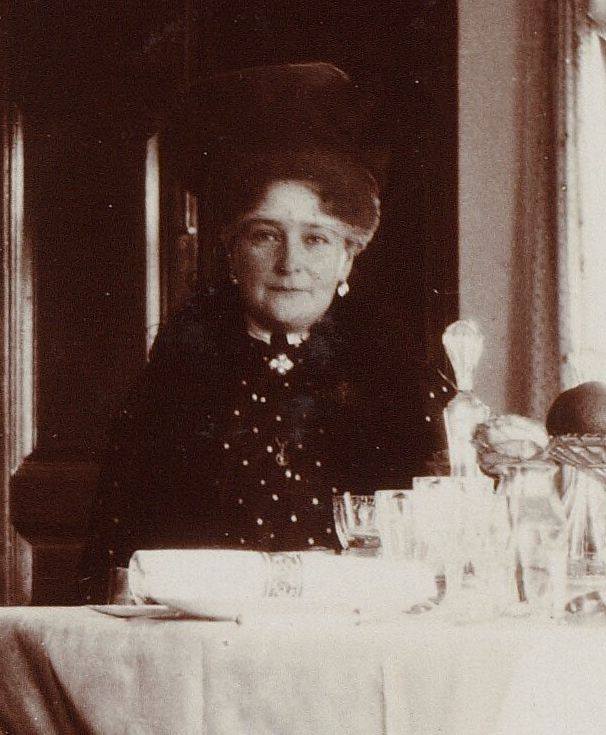 From the Diary Grand Duchess Olga Romanov:
"Everyone went to vsenoshnaya. So nice. Darling Mama also came and got tired." "Poor darling Mama is not feeling well, her heart is enlarged. [Her] temperature was 37.2 in the morning. Oh Lord, save her." "Poor darling Mama is not feeling well. Heart is No.2 and because of that her temperature was 37.2 in the morning, 37.4 in the afternoon and 37.1 in the evening. She got up for tea and for dinner." "Went to Kostroma. Darling Mama got very tired of course."
"At 8 o'cl. a moleben was held on the deck. Darling Mama was lying down, she has a severe headache. May the Lord save her." "Relaxed on the beach on boulders – fun! A[nastasia] is minding Mama. Darling Mama is not feeling well. Heart No.2, very tired and in pain. May the Lord help her. In the evening she did not stay up but went to bed." "Had tea and dinner with Mama and the Aunt. Darling Mama has a severe headache."
Above excerpts are from the book Journal of a Russian Grand Duchess: Complete Annotated 1913 Diary of Olga Romanov, Eldest Daughter of the Last Tsar
Empress Alexandra to Nicholas II:
"[…] The children were all in church and are now going out […] You cannot imagine how terribly I miss you – such utter loneliness – the children with all their love still have their own ideas and rarely understand my way of looking at even the smallest things – they are always right and when I say how I was brought up and how one must be, they can't understand, find it dull. Only when I speak quietly with T[atiana] she grasps it. […]"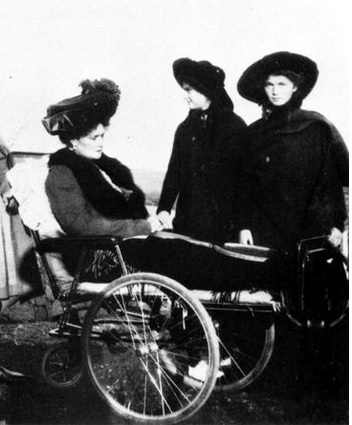 From the letters of Grand Duchess Tatiana Romanov:
"My dear Mama, my Angel. This evening I felt so wretched, darling Mama, because you were so sad. .. I give you my WORD, that I will do everything that you ask, and will always listen to you, my beloved one. 1000 kisses from your Tatiana."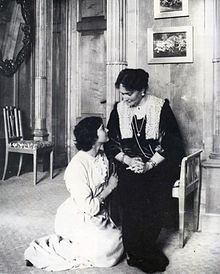 "New Year, 1915. I wish you, dear Mama, my angel, a happy new year. May God end this horrible war soon, and may all good come to our close ones. May God bless and keep you. 1000 kisses from your loving daughter Tatiana. A thousand thanks for the sweet card and the book."
"Dear Mama,
Would you not want to try to put this piece of fur to your cheek? Olga… gave it to me when I too was suffering from headaches. It is from the grave of the orthodox Semyon Verkhotursky . Try it, maybe it will help you. If not, then return it to me tomorrow. I hope that the Lord will help you, and all will be well with you. May God bless you. 1000 kisses from your very own daughter, Tatiana."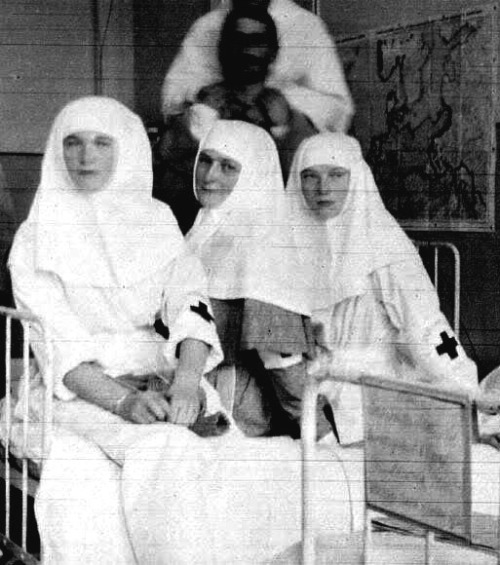 Above excerpts are from the book Tatiana Romanov, Daughter of the Last Tsar: Diaries and Letters, 1913–1918
From the letters of Grand Duchess Maria Romanov:
"Ekaterinburg… All new guards came inside and checked everything. Each time, Mama was obliged to get up from [her] bed and greet the guards in her dressing gown. Yesterday an extraordinary event happened: Nyuta and I washed Mama's hair. Everything went well and her hair was not tangled, but I don't know what is going to happen today and everything for sure is going to come undone… Nyuta has become a washerwoman too, washed Mama's kerchief, and very well too, and the dust rags… " "I write to you in semi-darkness as we do not have any light because the windows have been whitewashed. The white color is very unpleasant. It is, above all, bad for Mama because she suffers constantly from headaches."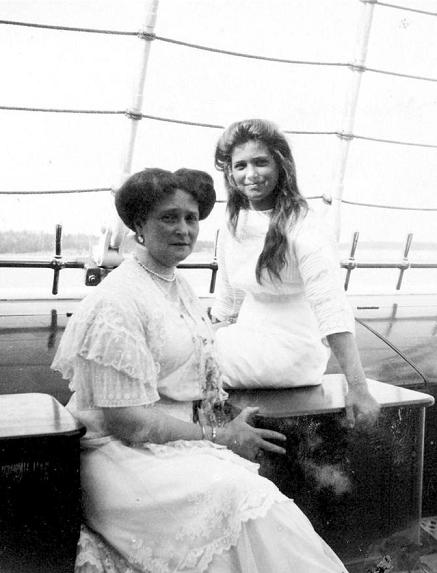 From a letter of Grand Duchess Anastasia Romanov:
" Tobolsk. Beloved and dear Mama. Enormous thanks for the letters. You have no idea how much happiness this letter brought us. I hope that your heart is not too bad and you have no more headaches… We spend the evenings working with Nast.[asia] , who kisses your hands, and sometimes play bezique… It is very sad without you, my dear ones. All the time we feel that something is missing… There are a lot of things that we would love to know about you, our infinitely dear ones. How do you feel and what is going on now? … Goodbye for now, my immensely dear Mama. You are constantly in our thoughts, our precious ones and we pray for you. May the Lord and Saint Ioann of Tobolsk protect all of you. Good night, I kiss you three very affectionately my dear ones, how I love you ++++. May the Lord come to your aid. Your faithful A. My good thoughts to everyone."
Above excerpts are from the book MARIA and ANASTASIA: The Youngest Romanov Grand Duchesses In Their Own Words: Letters, Diaries, Postcards.