ANASTASIA ROMANOV: 1916 LETTERS TO NICHOLAS II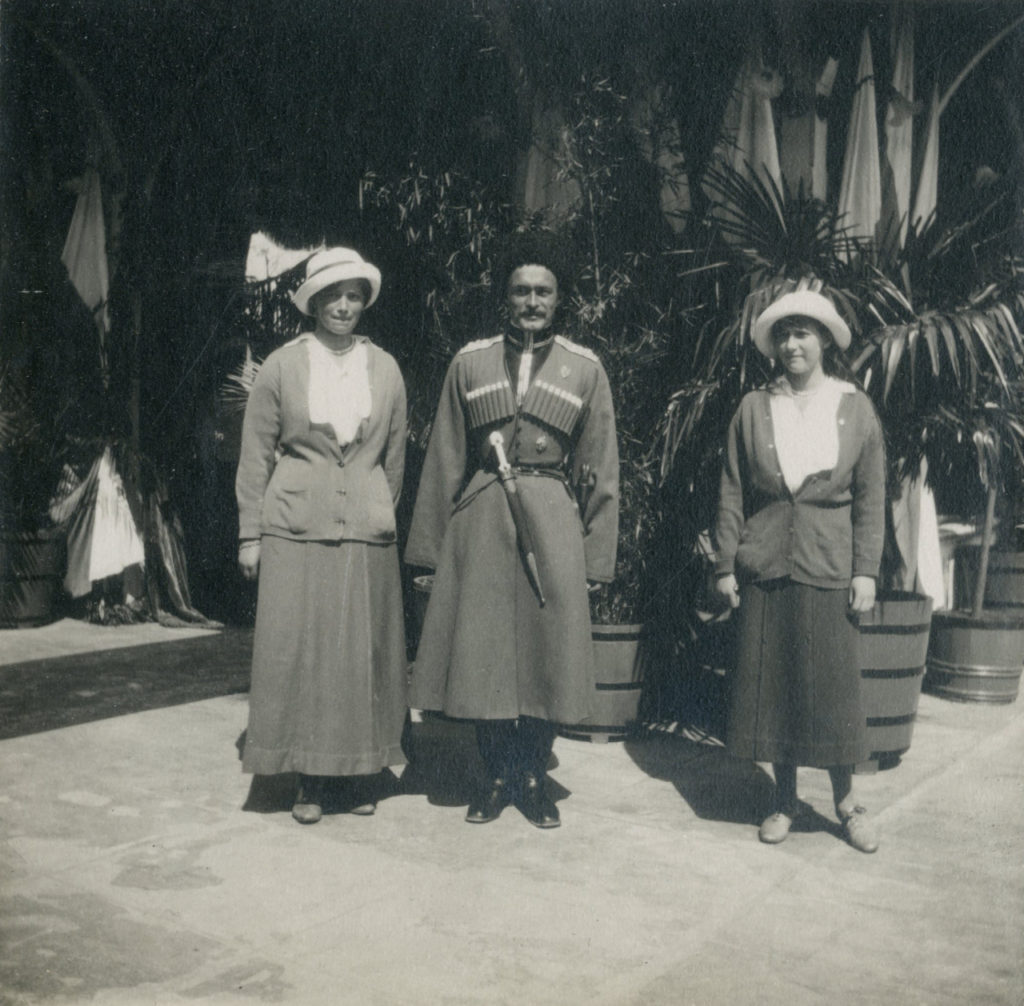 From Anastasia Romanov to her father, Nicholas II
"27 May, 1916. T.S.
My dear Papa Darling! I will soon send you the pictures that I took in Mogilev and Sevastopol, if you want them! Yesterday when I was riding around, a long distance passenger train passed by and suddenly I saw through the window a protective cherkesska a red beshmet and papakha , and further in the window a grey cherkesska and I thought I recognized Count Grabbe and his Cossack, and then during the day we ran into Voikov, he was riding in a motor.
Tell Alexei that I plan to write to him, but never have time. We now pick flowers, the lilac is here already but not that much of it. The weather is not great, it rains daily, nevertheless we still have breakfast and tea on the balcony. Right now I don't have a lesson and therefore I can write. Have you heard anything about the 1st Hundred! They probably have enough to do now and they are rather happy. Sometimes the Hundred comes by here for practice and returns with zurna , so of course we eyeball [them] and yesterday they passed by and I watched. It's a shame there are too many bushes so they can't see us well, but the important thing of course is that we can see them. We will now accompany the sisters to their inifirmary and ride back for our lessons. Everyone gives you a big kiss and Alexei too.
Your loving loyal and faithful little Kaspiyitz.
May God keep you!"
* * *
"21 September, 1916. Tsarskoe Selo.
My dear Papa Darling, we just dropped Olga and Tatiana off at their infirmary, and now I am sitting here and waiting for the teacher. Today Olga and Tatiana are going to Petrograd as Tatiana has a committe while we are staying with Mama. I think we will go to my and Maria's infirmary.
The Cossacks are still here, one of them left already and these are also getting ready to leave as their wounds are almost healed. Yesterday evening at 6 o'clock I was thinking of you and imagined that you were at a cinematograph. We are now very busy as we have a lot of lessons and most importantly we have to do homework, and today it was cold and there was thin ice on the pond and everything was covered in frost, but it's getting a little warmer now, but the gale is blowing rather strongly.
I was just organizing the pictures and have not pasted the Sevastopol ones, as recently Kira gave me the pictures he took there. And now I have to paste them all.
I am really sorry that I jump from one thing to another, but this happens unintentionally. Maria just came over and is sending you a big kiss. And I kiss you and Aleksei 1000 times.
Your loving loyal and faithful little 15 year old Kaspiyitz."
From the book MARIA and ANASTASIA: The Youngest Romanov Grand Duchesses In Their Own Words: Letters, Diaries, Postcards.